July is Park and Recreation Month! Here's a look at one of the many amazing parks in Washington County!
Visit trails in the county through August 31 and submit pictures to the Pathfinder Facebook Photo Contest for the chance to win a Fitbit Versa!
Hagerstown City Park is a gorgeous park the features walking trails, a picturesque lake, several museums, and public art. The park was even rated the most beautiful city park in America by escapehere.com, a tourist destination website.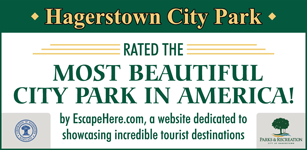 There are many trails perfect for taking a relaxing walk in City Park. You can view a map of a few different paths here. A three-sided kiosk located across the bridge at the Virginia Avenue entrance to the park provides a color-coded map of the trails as well as information about each one. There are a series of markers, known as wayside exhibits, that provide information about sites within the park.
Hagerstown City Park is home to the following destinations