Walking is great exercise and a healthy way to get around, but make sure you stay safe while walking near traffic! Here are some tips from the Maryland Department of Transportation's Look Up. Look Out. campaign. The Maryland Department of Transportation State Highway Administration's (MDOT SHA) pedestrian safety campaign includes both drivers and pedestrians, because pedestrian safety is a two-way street. Pedestrian safety is an issue that affects the entire community; young and senior, drivers and walkers, in the day and at night.  On average, more than 100 pedestrians are killed each year in Maryland. Most of the incidents are preventable. The Look Up, Look Out campaign reminds drivers and pedestrian to stay alert, and follow the rules of the road and traffic laws. Pedestrian safety is always important, but everyone should be extra vigilant in the fall and winter seasons, especially in the morning and at dusk. With the time change, the days are shorter and visibility is lower when the sun sets. Pedestrians should wear light and reflective clothing when traveling after dark and drivers should remain alert, attentive and prepared to stop for pedestrians.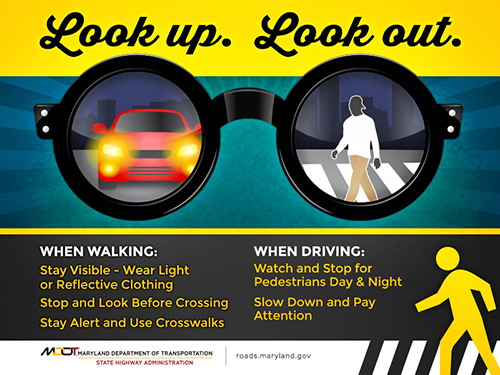 MDOT SHA offers the following tips that are best practice year round:
For pedestrians:
Use sidewalks and marked crosswalks whenever possible. If there are no sidewalks, walk facing traffic as far from the traffic as possible.

Press the pedestrian signal button and wait for the walk signal.

Always stop at the curb and look left, right and left before crossing a street.

Watch for cars turning in or leaving driveways.

Wear light or bright colored clothing, especially at night.

Pay attention and take off headphones while walking – no texting or playing games.
For drivers:
Always stop for pedestrians. It's the law in Maryland to stop for pedestrians in crosswalks!

Follow traffic signs, signals, and markings.

Observe posted speed limits. Speeding only makes it more difficult to stop for pedestrians.

Keep your eyes on the road. It's illegal to use a handheld phone/device or text while driving.
Check out this pedestrian safety tip card.
Follow the tips in this interactive infographic to avoid being hit by a car while walking.